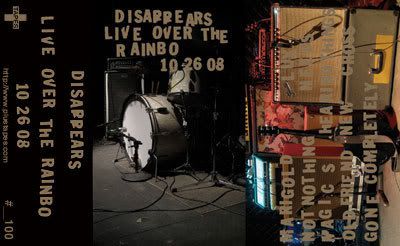 Disappears - Live Over The Rainbo
(self-released)
1. (crowd noise)
2. MARIGOLD
3. NOT NOTHING
4. MAGICS
5. OLD FRIEND
6. GONE COMPLETELY
7. LUX
8. NEEDS
9. HEARING THINGS
10. NEW CROSS
want the whole thing?
i cannot stop listening to these guys. you can download their 2 singles at
their blog
for free... finally got to see
them
at the Hideout and man were they solid. Lanterns were amazing too. people are calling Disappears a Chicago super-group and i just think that is silly. i bought this on cassette (2nd cassette purchased during the last year!) and grabbed a CD-R version, now you can hear it too.
it's kind of a fake live album, recorded live but without an audience. they have two 7 inches and this record, which has different versions of the 7 inch tunes (plus others). i'm not gonna list the bands they remind me of, but believe me they are all good bands. here is a song called "Old Friend" and it's serious business. this is the 7 inch version.